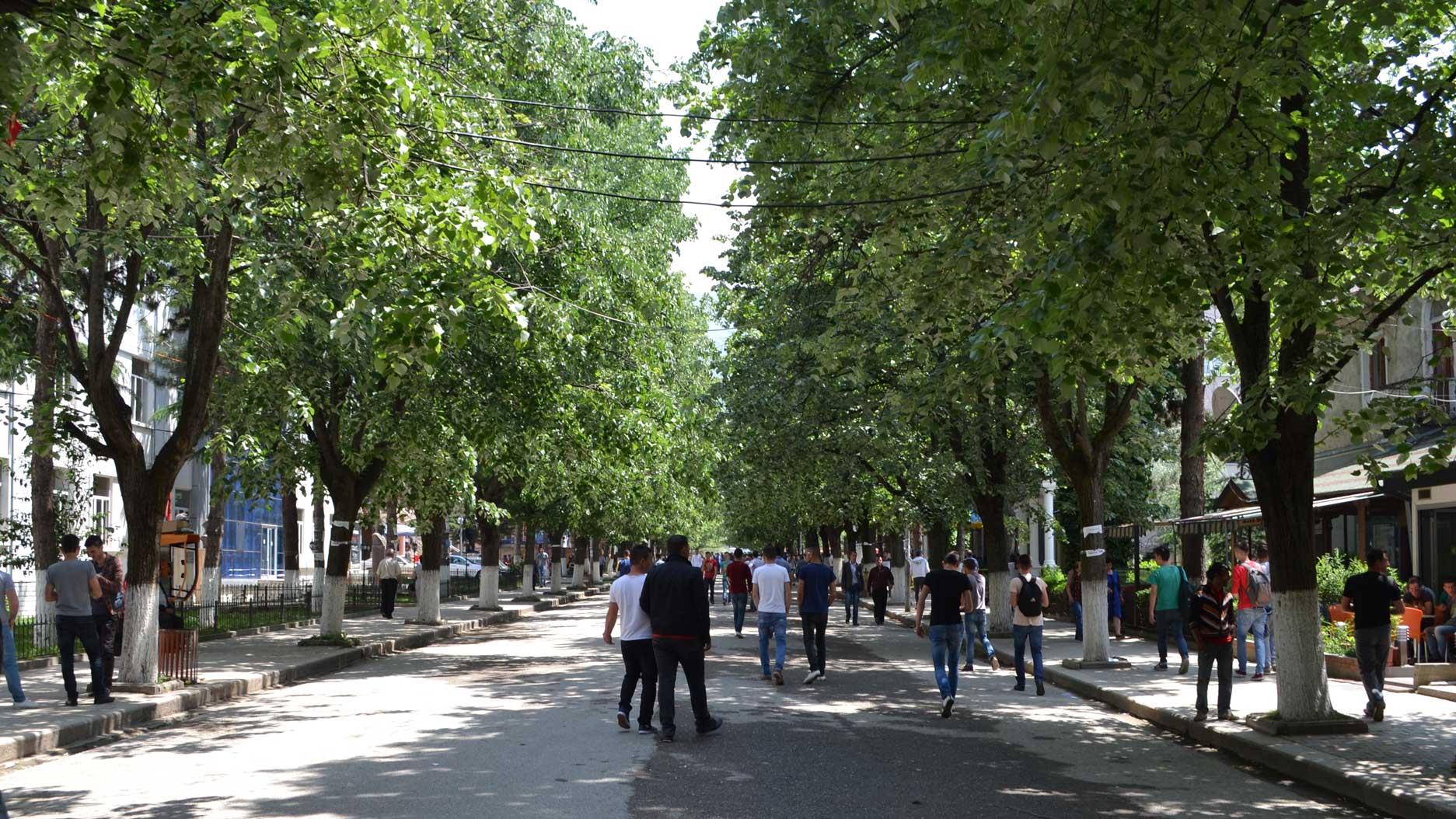 Peshkopi, Albania – either you hate it, or you love it
Three freezing ladies, two days of developing different opinions about the city, and a never-ending journey.
Why Peshkopi? Where is Peshkopi? What can be found or done there?
We planned a 10 days trip to the North of Albania, starting on the North Macedonian side, Galicnik. The second stop of our trip was Peshkopi. First thoughts that came up when speaking about Peshkopi: where exactly is this city? Since no one from our friends and colleagues has mentioned it so far Mister Google's help was needed, but even that smart online encyclopedia could not give any further information besides the Wikipedia entry. So, it was up to us – the explorer crew, to discover and share our impressions with you.
First thoughts about Peshkopi?!
Peshkopi seemed like there is a lot of ambition and motivation to establish touristic sights. Although there were not many activities found, that undeveloped or also unspoiled character of the city is quite charming and worth a visit for travelers seeking authenticity and who can do without luxury. If more unique and authentic activities could be established there, the region could gain the attention it deserves.
Our journey, our discoveries
Quite late, coming from North Macedonia we finally arrived in Peshkopi. Due to the darkness and the tangle of streets we got lost trying to find our accommodation. Our hotel was right in the pedestrian zone, so we decided to look for food, maybe have a drink somewhere. However, we were surprised by how quiet and empty the streets were. We did find a pizza spot and an open bar but after all but not as vibrant as we are used to in Elbasan.
The next day we met with a friend, a guy from the U.S. who participates in the Peace Corps program. He has lived in Peshkopi for almost a year and gave us some hints about hidden spots we should check out.
Supporting the local economy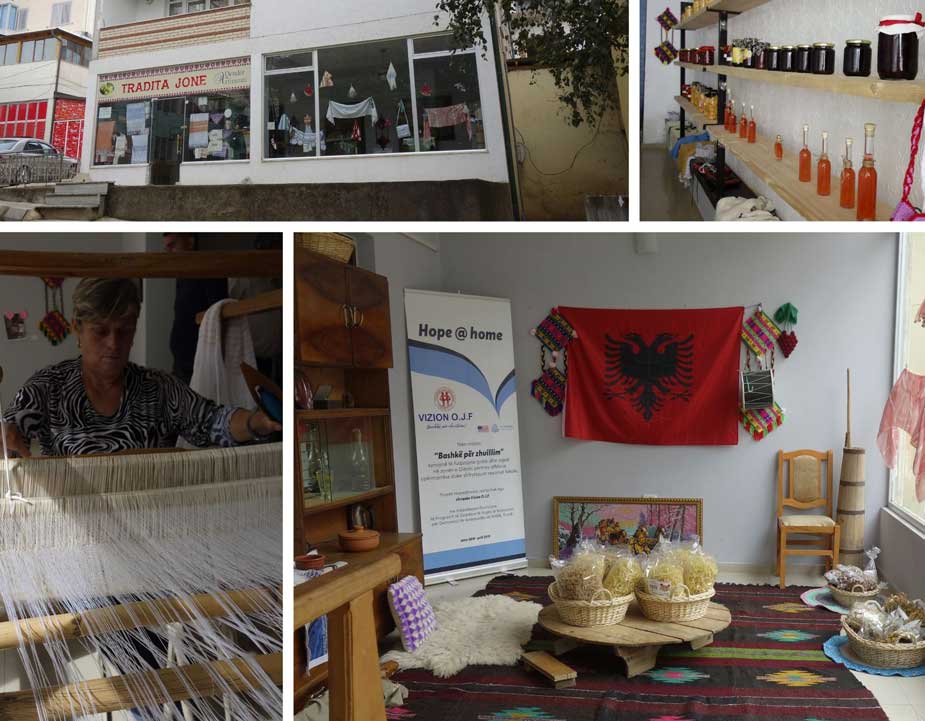 One of the spots was Tradita Jone. A shop selling self-made things produced by Mimoza who also takes care of the place. In 2019 the shop was opened with the support of the program Hope@home by the U.S. embassy. The program aims to support the local economy by selling handcrafted products such as fabrics for pillowcases or tablecloths, jams, and liquors to visitors. Decorated traditionally with 40 years old furniture guests get an impression about ancient traditions and Albanian culture. To maintain the tradition of looming Mimoza who is originally from Burrel and learned how to use the loom in first grade offers classes for women from the region.
A place for nature lovers
Another stop was the tourist information which was quite hidden as well. The employees were super motivated and tried to give us tons of information about sights to see as well as maps with hiking trails. It became obvious that Peshkopi and the mountainous surroundings are just perfect for hiking, offering various places of interest such as hot springs, guesthouses with phenomenal traditional dishes and stunning views of the untouched natural features.
Holy moly – I will never get over this delicious Albanian food
As usual, we have a culinary experience, this time at the restaurant Zerja outside the city. The inside is lovingly decorated, quite modern. The food was organic since the owner has grown fruits and vegetables in his backyard, and keeps chickens. And again, we experienced the great Albanian generosity, the owner insisted on inviting us.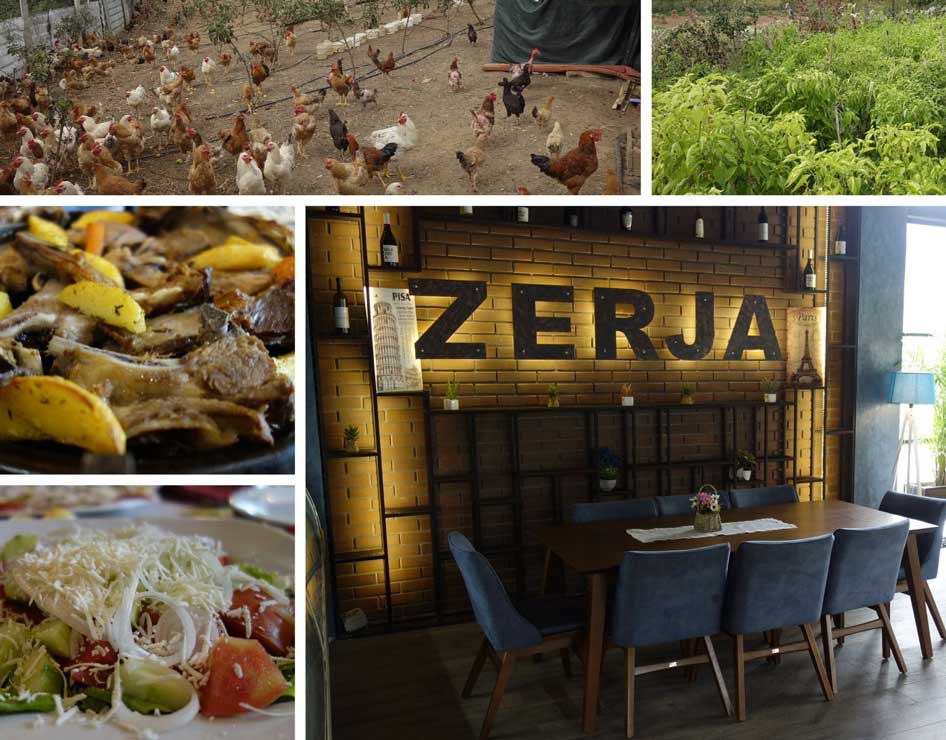 After all, the opinions of the explorer crew were divided after our stay in Peshkopi. On one side the impression of the city was that Peshkopi is cold, ugly, and unexciting, not worth a visit. The other opinion was that Peshkopi with its sympathetic chaos, no imposed image to impress still has the authenticity of the Albanian lifestyle. Especially when strolling through the streets, passing the bus terminal, or going shopping at the flea market, you feel less like a tourist and more like a visiting friend.
Let the journey to be continued…