COVID-19 IN THE BALKANS
Covid-19, a respiratory disease, which had its origin in Wuhan, China in December 2019, has now spread globally. Inevitably, the Balkan region makes no exception. The outbreak of this virus evolves rapidly with new cases every day, but as of 29th of May, the statistics as follows:

The total number of the infected so far is 46187. Meanwhile, the number of deaths has reached a total of 2346 in the whole Balkans. On the other hand, on a positive note, there has been a total of 30070 recovered cases. That leaves 13554 active cases. From these active cases, 264 are in critical condition in the Balkans so far (as of 29th of May 2020).
For further information regarding travel in the Balkans, visit the following websites:
Bulgaria: https://www.mfa.bg/en/
Croatia: http://www.mvep.hr/en/
Greece: https://www.mfa.gr/en/index.html
Romania: https://www.mae.ro/en/
Slovenia: https://www.gov.si/en/state-authorities/ministries/ministry-of-foreign-affairs/
Bosnia & Herzegovina: http://www.mvp.gov.ba/default.aspx?pageIndex=1
Montenegro: http://www.mvp.gov.me/en/ministry
North Macedonia: https://www.mfa.gov.mk/en
Serbia: http://www.mfa.rs/en/
Kosovo: https://www.mfa-ks.net/en/
As for Albania, the virus was imported from Italy and it was spread in different cities around the country. The total number of cases so far is 1076, 33 of which resulted in death. The cities with the reported cases are as listed below: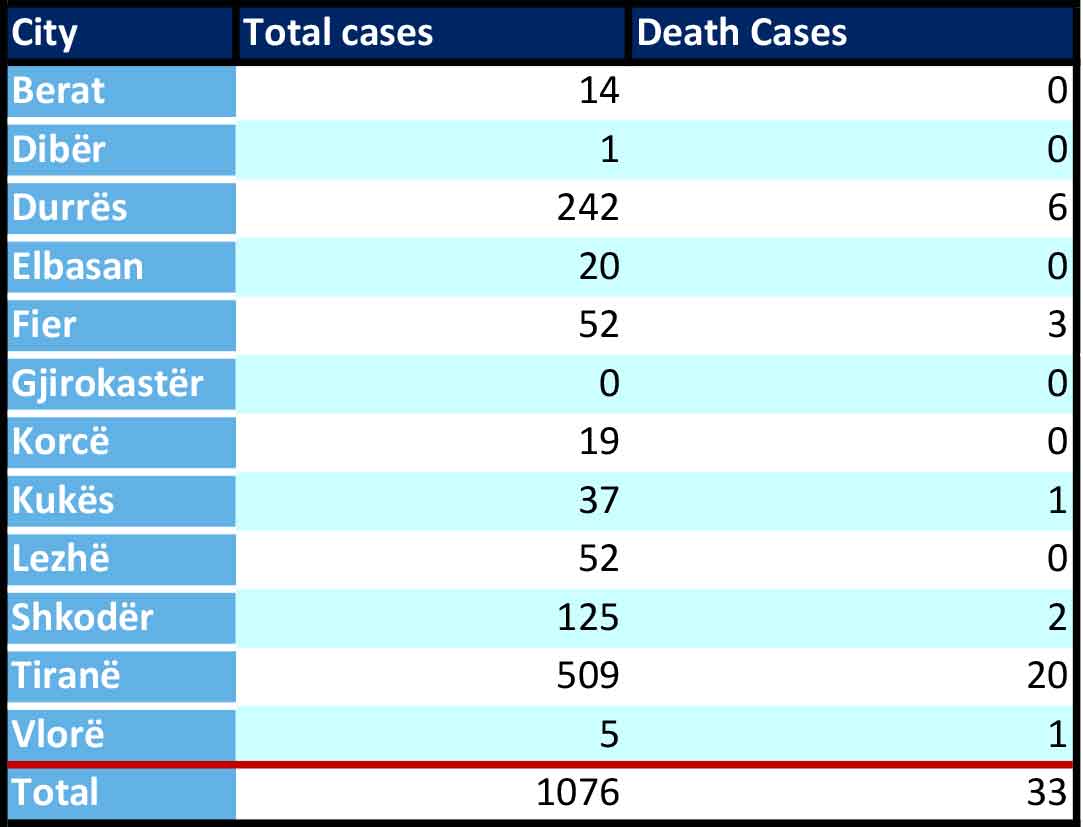 Following the novel coronavirus outbreak, the Albanian government started to take some measures in order to slow down the spread of the disease. However, with the latest changes, the measures are not as strict. Due to a low number of confirmed cases of infection, the Albanian government has decided to lift the measures by the 18th of May. Most businesses are already allowed to reopen. The borders will be open from the 1st of June. Hotels, services, and beaches are reopened. The government presented a few prevention measures regarding tourism this year.
For more details around the proposed measures: https://1drv.ms/b/s!Agf39imFGF_3hoVve1q3Q5ljlh1kjg
*Measures can be facilitated based on the continuity of the spread of the virus
For further information about travel in Albania, click here.
STEPS AND MEASUREMENTS TAKEN BY THE ALBANIAN GOVERNMENT
Schools, public gatherings and quarantine
Firstly, all the educational institutions, kindergarten, schools, and universities are suspended from 09 March until further notice and all the buildings got disinfected. Only the students graduating high school or university might have to return to school for their exams during June-July. Nevertheless, there will be strict measures to follow. Then, all public gatherings such as protests, concerts, parties, etc. are postponed for a later date. Around May 18th, it is expected that borders and the airport might reopen.
National Lock Down
Currently, all those who work in administration and public institutions have returned to their workplace, following some rules. People do not have a curfew anymore they can continue to run errands freely. Supermarkets, stores, and drugstores can be open all day but they must follow social distancing rules and everyone should have masks. Below is the map of the cities that are open (green) and the cities that will continue the lockdown (red).

Transport
Finally, private cars are allowed but individuals cannot travel to the red zones. Only the most important transportation units are allowed to move throughout the country such as food/market deliveries, drugstores, hospitals, and worker transportation for producing companies (with permission from the Police). In the cities that have 0 cases, life goes on as usual. Public transportation is suspended until further notice. All land and sea borders are closed (except transportation trucks, aid, help, etc.) but on June 1st the government should gradually start to reopen them.
STEPS AND MEASUREMENTS TAKEN AT ETG
Health conditions
All the staff is well and healthy and none of Elite Travel Group employees, friends, partners or networks we know have been affected by Convid-19.
A new world of work
Elite Travel Group HQ has been disinfected since last year, and periodically by our cleaning and sanitation personnel, social distance is respected and we have a ratio of 10 m2 surface per each employee. We, as a company, are on cloud since 2014, and all the staff can work remotely from home.
Due to Government restrictions, we have implemented the following schedule:
From Monday to Friday: All of us will be working in office 08.00 – 16.00.
Saturday and Sundays: All day at disposal for urgent matters only.
What we are doing right now!
The good thing is that out of 53 full-time employees none has gone short. We have implemented a full-time job payment of 60% for all. All our colleagues need to be covered on hard days. We know people better in hard times since on good times all are good.
Most of the staff are now working on different projects but we are also paying attention to re-skilling. We are training our team with the best in class online training, especially from LinkedIn learning and Udemy.
Being aware that when we return on the business after this long disruption, there will be another environment, everything will be different. Until then, we are working to come with much-advanced technology and better and qualified staff.
Our partners
Generally, our partners are financially stable and healthy, with a very positive spirit to come back to business even stronger. Around 90% of all the bookings for the period from March to April, have been postponed to a later date instead of being canceled. May to November is still on sale but with a very slow sales volume. We are very confident that this situation will soon come to an end and hope that in the second half of 2020, the numbers will be improved.
Our Suppliers
We are on day-to-day communication and all of them are on good health and are waiting for the moment to reopen the New world of worker operations. They are also working from home keeping up with daily communications and business flow.
Digitizing SMS 
As many of you already know, we have an SMS plan and workflow process. Finally, we conduct paperless safety inspections, audits, and checklists on-the-go by uploading your safety forms. Currently, we are working on the actuality status of the pandemic case. We have implemented the day/weekly and monthly prevention plan inside the system. By working to fully digitize the SMS process we will take safety to the next level with incident reports, toolbox talks, equipment tracking, mobility, natural disasters, hazard management and much more!
Our financial background
On the financial aspect, ETG management relies on our talented CFO and her colleagues, but also national and International finance consultants. They are in charge of the risk assessment and have the power to guide and flow the business successfully forward on this confusing and unforeseen situation. We are working closely with the local and central government, fiscal authorities, partner banks, and International funds. Measurements taken are stable cash flow, cost-cutting, financial freeze on investments in areas such as marketing, business trips, real estate investments, etc.
That being said, how about some good news out of all this for a change?
Here are several major victories from the Pandemic line.
(1) Vaccine development: An experimental vaccine developed by Moderna Inc. began the first stage of a clinical trial on Monday, with testing on 45 healthy adults in Seattle.
(2) China's new cases plummet: China has now closed down its last temporary hospital built to handle COVID-19. Not enough new cases to warrant them.
(3) Drugs that work: Doctors in India have successfully treated two Italian patients with COVID-19, administering a combination of drugs — principally Lopinavir and Ritonavir, alongside Oseltamivir and Chloroquine. Several are now suggesting the same medical treatment, on a case-by-case basis, globally.
(4) Antibodies to the rescue: Researchers at the Erasmus Medical Center claim to have found an antibody that can fend off infection by COVID-19.
(5) 103-year-old recovery: A 103-year-old Chinese woman has made a full recovery from COVID-19 after being treated for 6 days in Wuhan, China, becoming the oldest patient to beat the disease.
(6) Stores re-opening: Apple has reopened all 42 of its Apple retails stores in China.
(7) Test results in 2 hours: Cleveland's Metro Health Medical Center has developed a COVID-19 test that can now deliver results in just two hours, rather than in a matter of days.
(8) South Korea's dramatic drop in new cases: After its peak of 909 newly reported COVID-19 cases on February 29th, South Korea has now seen a dramatic drop in the number of new cases reported daily.
(9) Mortality rates inflated. Experts predict that Italy has seen a higher mortality rate of COVID-19 given its significant aging population, as well as its higher percentage of COVID-19 patients with pre-existing health conditions. This might suggest that COVID-19's fatality rate may have been slightly more inflated than previously thought for the general population.
(10) Israeli vaccine development: More than 50 scientists in Israel are now working to develop a vaccine and antibody for COVID-19, having reported significant breakthroughs in understanding the biological mechanism and characteristics of the novel coronavirus
(11) Full recoveries: Three patients in Maryland who tested positive for COVID-19 have now been reported to have "fully recovered."
(12) Isolated virus: A network of Canadian scientists isolated the COVID-19 virus, which can now be replicated to test diagnostics, treatments, and vaccines.
(13) Yet another vaccine in the works: San Diego biotech company Arcturus Therapeutics is developing a COVID-19 vaccine in collaboration with Duke University and the National University of Singapore.
(14) Treatment protocols: Seven patients who were treated for COVID-19 at Jaipur's Sawai Man Singh (SFS) Hospital and Delhi's Safdarjung Hospital in India have recovered. The treatment protocol will be widely scaled to other hospitals.
(15) Another treatment: Plasma from newly recovered COVID-19 patients (involving the harvesting of virus-fighting antibodies) holds promise for treating others infected by the virus