Last Update: November 03rd, 2021

COVID-19 IN THE BALKANS
Covid-19, a respiratory disease, which had its origin in Wuhan, China in December 2019, has now spread globally. Inevitably, the Balkan region makes no exception. The outbreak of this virus evolves rapidly with new cases every day, but statistics show as follows:

For further information regarding travel in the Balkans, visit the following websites:
Bulgaria: https://www.mfa.bg/en/
Croatia: http://www.mvep.hr/en/
Greece: https://www.mfa.gr/en/index.html
Romania: https://www.mae.ro/en/
Slovenia: https://www.gov.si/en/state-authorities/ministries/ministry-of-foreign-affairs/
Bosnia & Herzegovina: http://www.mvp.gov.ba/default.aspx?pageIndex=1
Montenegro: http://www.mvp.gov.me/en/ministry
North Macedonia: https://www.mfa.gov.mk/en
Serbia: http://www.mfa.rs/en/
Kosovo: https://www.mfa-ks.net/en/
In Albania, the cities with the reported cases are as listed below: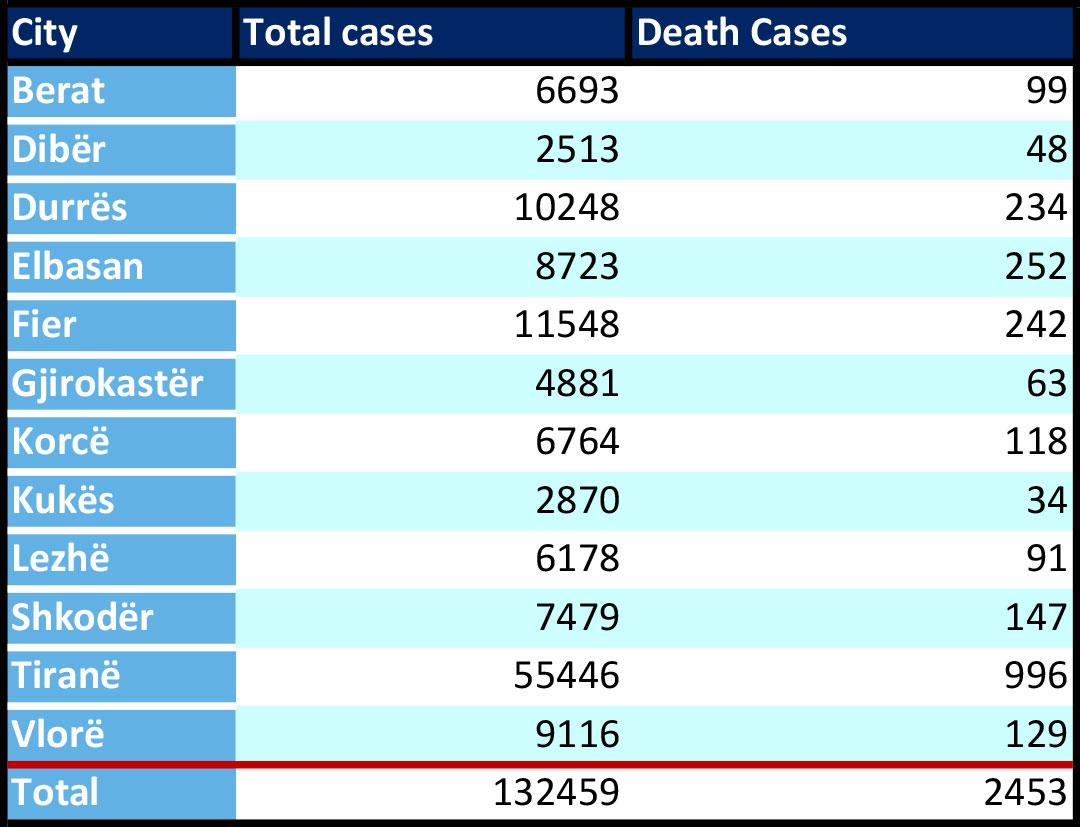 Following the novel coronavirus outbreak, the Albanian government started to take some measures in order to slow down the spread of the disease. The government presented a few prevention measures regarding tourism this year.
For further information about travel in Albania, click here.
COVID-19 Prevention Measures in Albania
Public movement is restricted from 23:00 until 06:00 A.M, except for health reasons or emergencies. Masks remain mandatory for indoors and public transportation. It is recommended to keep the mask in all those places where is not possible to keep social distance and for those who have not received the full dose of vaccination. Night clubs remain closed. Activities are restricted from 23:00  until 06:00 A.M for bars and restaurants, except the delivery service. Outdoor gatherings will be allowed for up to 50 people, following the protocol of rules and social distance, set by the Institute of Public Health Albania: http://www.ishp.gov.al/ . Sports championships, the activities of theatres, artistic, cultural performances, and conferences will be allowed with the presence of fans, with a reduced capacity of up to 30% according to the IPH protocol.
Border Restrictions and Conditions
North Macedonia
In North Macedonia, foreign citizens are permitted to enter. All travelers arriving from India are required to quarantine for 14 days upon the arrival. There is no negative COVID-19 test (PCR and/or serology) required to enter the country. At Skopje International Airport, thermal cameras screen both passengers entering the terminal to depart and passengers arriving through passport control. Medical teams from the Institute of Public Health are on-site 24 hours per day to evaluate any persons who register a temperature above 37 degrees Celsius.  (98.6 degrees Fahrenheit). No health screening is in place at the land borders. Since June 22, individuals accompanying international travelers can enter Skopje and Ohrid airports while following all protective measures established by the airport authorities. From June 16, the daily nationwide curfew is no longer in effect.
Kosovo
People traveling to Kosovo do not need a negative COVID-19 test if they are vaccinated. Otherwise, a test is necessary 24 hours prior to the travel date.
Bosnia & Herzegovina
A foreigner who meets conditions for entry to BiH prescribed by Law on Aliens may enter BiH if he/she at the BiH Border Crossing Points presents any of the following:
Negative PCR test or rapid antigen test on SARS-CoV-2, not older than 48 hours if he/she comes from a European country, and if he/she comes from another country, not older than 72 hours until arrival at the border crossing point of Bosnia and Herzegovina,
The certificate that a person has received the second dose of vaccine for COVID-19 before more than 14 days before the arrival to a Border Crossing Point of BiH or has received one dose before 14 days and more before the arrival to a Border Crossing Point of BiH if it is a single-dose vaccine,
certificate issued by a doctor showing that he/she has recovered from COVID-19 in the previous period from 14 to 180 days until the arrival to a Border Crossing Point of BiH.
Traveling in Albania
Your wellbeing is primary for us. During this unprecedented situation created by COVID-19, we have been in touch with all the public institutions and local partners, to assure maximal security on all of your travels with us.
We have strictly followed and we have implemented all the guidelines and protocols published by the Ministry of Health and Social Protection & The Institute of Public Health, against the spread of the virus.
Starting from 06th of September 2021, to enter the Republic of Albania, whether, by land, sea, or air, you must be equipped with:
• Vaccination passport, which is valid 14 days after the second dose of vaccine has been administered; OR
• PCR test performed up to 72 hours before entry; OR
• Rapid antigen test performed within 48 hours before entry; OR
• Valid document proving that you have passed or recovered from Covid-19 up to 6 months after recovery;
• These criteria also apply to those travelers who transit through Albania;
• Children up to the age of 6 are exempt from these criteria;
• Albanian citizens residing in Albania, who return and do not have a document mentioned above, must be isolated for 10 days and inform the health authorities to perform a test at the end of isolation.
• Only traveling passengers will enter the airport building, avoiding being escorted by their family members;
• Passengers must respect the social distance of 1.5 meters during the entire stay at the airport;
• Priority is given to the elderly, people in need, and families with minor children;
• For more information: https://www.tirana-airport.com/c/116/measures-and-rules/