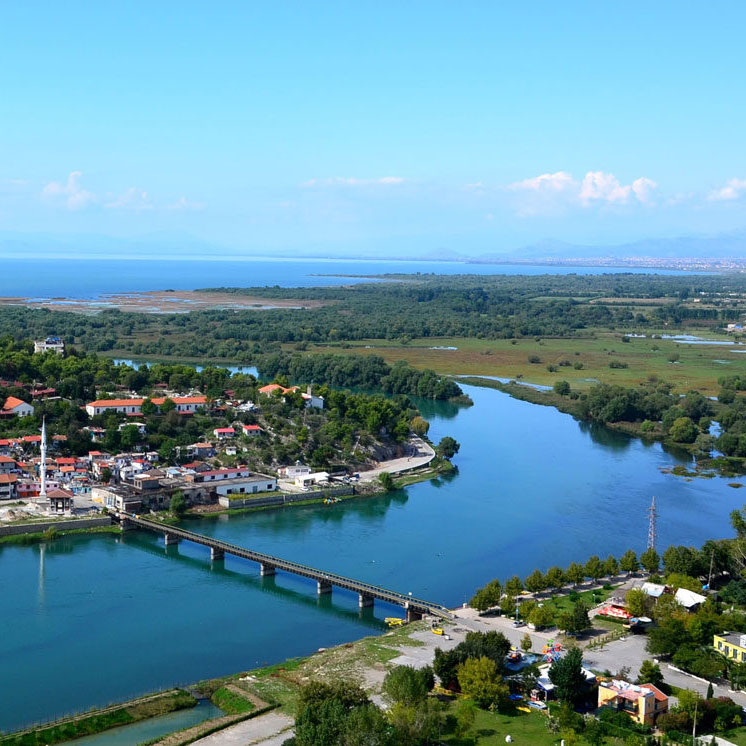 Shkodra – the northern gateway to Albania
One city conquered by two ladies in just four days – double trouble in the capital of the North 
Once or twice we have been to Shkodra before, well actually just passing through with a glimpse of the trademark of the city the ancient Rozafa Fortress on top of hill when entering. The first time was when heading to Theth, the second time we were on our way to Montenegro. Usually, people are passing by to get somewhere and it does make Shkodra to a gateway to Albania somehow.  
The capital of the North
My classmate, flatmate, and partner in crime, Nina and I decided we want to see the actual city and explore it a bit further. In four days, we were planning on discovering Shkodra and its beautiful hidden sites. Before our trip, we checked online what we could find about the city. Apparently, as one of the oldest cities in Albania it is also called the capital of the North and besides a visit of the beautiful Old Town and Lake Shkodra, enjoying the sunset at the Rozafa Fortress is a must-do.
Rain like pitchforks, blackout – welcome to Shkodra
Nina and I took a bus on Monday morning to Shkodra and were welcomed by heavy rain. By heavy rain I mean like it came down in buckets, rained "cats and dogs", soaked after just a few seconds being off the bus, so that the first thing we did was looking for shelter and some coffee. Step by step or you could say from one shelter to another one, passing locals smiling about us we made it to a café, dripping, freezing and waited for the rain to ease up. But instead, the power went off. What a very neat first impression of Shkodra?! 
New member for team double trouble
We stayed at the quite well-known Hotel Tradita, a family-managed 4 stars hotel. The ancient-style building used to be a multi-family house in older days. Nowadays the hotel is furnished and decorated with traditional Albanian furniture, the Restaurant is serving insanely delicious typical dishes, and the owner himself a passionate collector of antiques, wants to establish a small museum within the hotel exhibiting old Albanian objects.  
During our time there, the whole Tradita team turned into our small family somehow. Sami who has been working there for quite a while now, showed us around and became part of our adventure team.
Between looms, spindles and handmade fabrics
Sami introduced us to Kristina in a small shop selling traditional handmade fabrics in from of tablecloths, pillowcases, curtains, bedsheets, etc. The shop has been in her husband's family for several years now. Due to our huge interest, she invited us to stop by her house, so that she could show us the place where it all happens and the fabrics are made by her 6 staff members, usually also family members. Seeing the ladies sitting at the looms, which each of those are used for different patterns, watching their work step by step in such a pace and hundreds of spindles in all colors was just a sensory overload in a positive way. At the end, Kristina even gave us a little something just to appreciate our interest, so on top we were just so touched by the kindness.
About hunting chickens, the illegal tobacco business and cow Olga
A quite diverse day started with Nina staying in bed unfortunately due to stomach pain and continued being hunted by a crowd of chickens at an eco-social farm supported by EMBRACE, a project financed by the EU to increase social inclusion and is used as a space for social-economic integration. Besides dogs, cats, sheep, aggressive chickens and a caretaker the place seemed pretty abandoned and as if the actual achieved progress by the project got lost at some point.  
Another interesting but at the same time, odd experience was getting introduced to the tobacco business in rural areas. I found myself in a small room behind someone's house in front of a tobacco machine, listen carefully to the explained process of production. Besides the health risks for the three people working in that room by breathing in the dust, also the noise of the machine which I had the pleasure to experience it myself, was just extremely loud and hurt the ears.
Why is it illegal? Since the permit to produce and sell tobacco is just way to expensive, people stay it hidden, collect the raw tobacco from the surrounding farmers and sell it in the cities after the treatment. Personally, I decided not to enter the tobacco business. 
Coming to the third highlight, Sami took me to his house where I not just met his parents and had the joy of self-made juice from his mother, but also met cow Olga while fruit picking on the field. Well I was just so amazed by the only cow Sami's family owned, and how pretty it looked standing on the field surrounded by beautiful nature, I just had to name it. OIga it was then.
Orgasm of tastefulness, also called mouthgasm
Not to forget the culinary experience: fish from Lake Shkodra. Sami took us along the lake further to a village Zogaj where we stopped at the restaurant B7 Zogaj. By car it was a drive of about 15min along a Tar road, but certainly it would be even nice combining it with a bike tour. Also, you can work of all the additional weight you gained by all that delicious food in Albania. However, while enjoying the drinks and food you also have a stunning view at the lake.
Shkodra is so much more than just a gateway, strolling through the Old Town was one of the most enjoyable things besides the food and Rakia of course. The Rozafa Fortress is worth a visit, especially as they say for the sunset with a bottle of wine. The people are friendly, surely the double trouble team would not have experienced such unique moments without the help and kindness of each of them.